Real Estate Investing in Vancouver BC – Best Places to Buy
Discover my Unique Strategy for Real Estate Investment Vancouver in BC, and the best places to buy investment properties Vancouver and Investment Property in British Columbia Canada. Investing in real estate in BC continues to be an incredible opportunity.
The Vancouver real estate market is hot! Historically, it has outperformed year after year without fail! If you are looking into 1) residential or 2) commercial real estate, we offer solutions to real estate investors small and large scale for all real estate investments in BC.
As an investment expert Realtor in Vancouver, right now I have revenue properties for sale in BC in Coquitlam, Surrey, Langley, New Westminster and other areas in Metro Vancouver, British Columbia that you can get in at a good price range and still quite possibly cash flow!
Must-Know Highlights

Our revenue Property Strategy generates a high return on investment and earns positive cash flow.

Lock In Multiple Profits Property
Hold for Long-term appreciation
Leverage on your Real Estate
Own Rental Property in Vancouver – Ownership and control
Explore Tax advantages for Vancouver Cash-flow Properties
Best Places to Buy Rental Property in BC are: North Vancouver, Surrey, Langley, Coquitlam, New Westminster, Port Coquitlam
Residential: Strategies for Investors in Vancouver and the Lower Mainland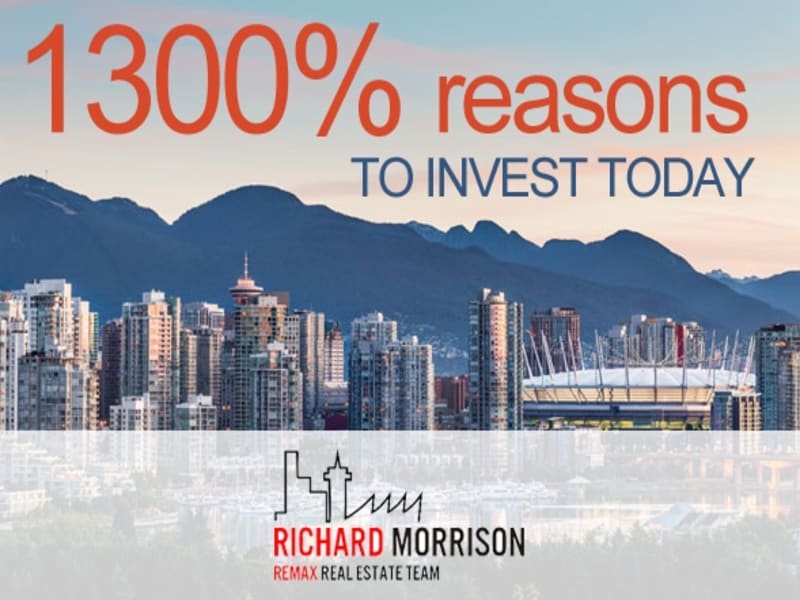 If you are just starting your search for cash flow properties vancouver or are a seasoned investor looking into Investment Properties in Vancouver British Columbia, you are at the right website. All of the pieces are in place. With our strategy, You will benefit from:
Greater Vancouver Income Properties with positive cash flow and high ROI
Low-interest Mortgages in Metro Vancouver and the Lower Mainland
Independent Financing for investments in Vancouver (Can't come up with all the down payment? No problem. We will help and find solutions using our real estate investment network.)
A proven strategy to manage your revenue properties A Network of Real Estate Investors built over 20 years (Independent Financial Lenders No Fees for our services: No fee for Buyers.
A proven track record for over 20 years.
Contact Richard Investment Realtor Today:
Testimonials from clients investing in real estate with Richard:
Richard Morrison has been the personal financial advisor to hundreds of real estate investors and mutual fund clients to build their real estate portfolio. With a firm accounting and investment background, Richard is able to layout strong financial planning for your investment needs.
Investing in real estate in BC.
Whether you are a commercial property investor or prefer investing in real estate in bc, the main attraction of real estate investing is that someone else pays for your assets in Vancouver – Your tenants literally pay a dividend to you each month. Few investments have this advantage.
Over time, with inflation, your rental income increases, the value of the property increases, your mortgage payments decrease, as the principal is paid off effortlessly.
Multiple Profits: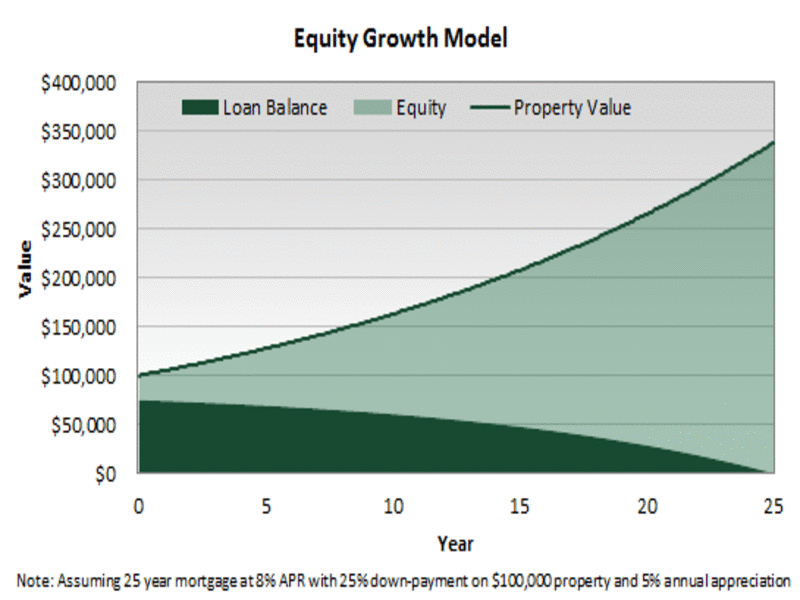 Regardless of what happens in the real estate market, you will own your investments free by clear courtesy of your tenant! Vancouver, North Vancouver, Vancouver East, Coquitlam, Surrey, New Westminster all have a near 0% vacancy rates and are excellent areas to invest in; so finding tenants is very easy.
Our team has everything in place to deploy a strategy to help you to become wealthy with passive income with investments in Vancouver houses / condos and/or properties in the Lower Mainland.
What do we do that is so unique? A phone call away is all that takes for you to understand. We will schedule an appointment for you to see these investment properties in Vancouver and educate you on the whole concept.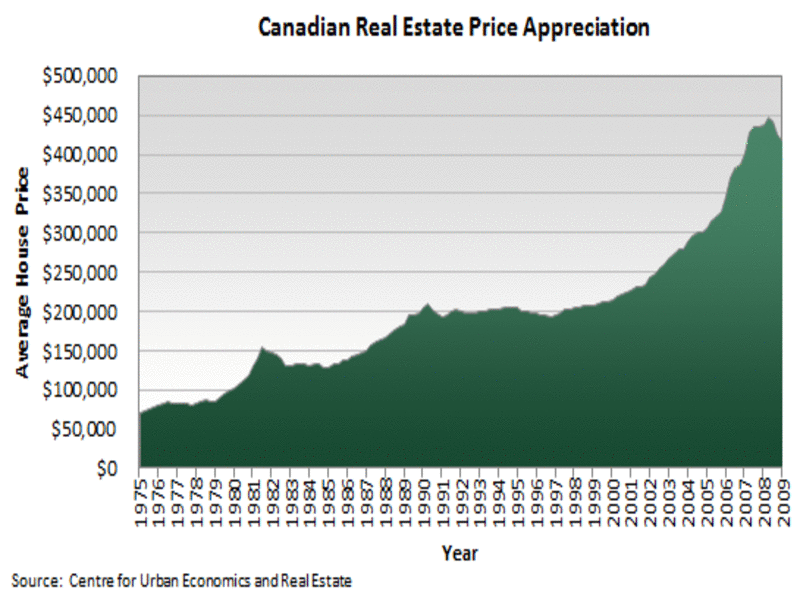 Long-term appreciation for the real estate investor in Metro Vancouver BC
Historically, real estate in Vancouver has been one of the only investment vehicles that have kept pace with or exceeded inflation. With Metro Vancouver being one of the most desirable areas to live in the world, investing in real estate in Vancouver is one of the most dependable and secure strategies for creating and preserving wealth.
If you've own your own home for the last 25 years you should already know this. If you had invested even 5 years ago, you know very well just how powerful investing in real estate in Lower Mainland and British Columbia can be. And if you are a home buyer that hasn't bought yet, it's not too late.
Two things we consistently hear from sideliners every year is that "the housing market is too expensive," and "I wish I bought 5 years ago." Let's not let it happen again this year. Richard will help you get off the sidelines and get started!
Does the Metro Vancouver market matter? No, because our strategy is to buy and hold. We have just shown you 25 years of consistent growth.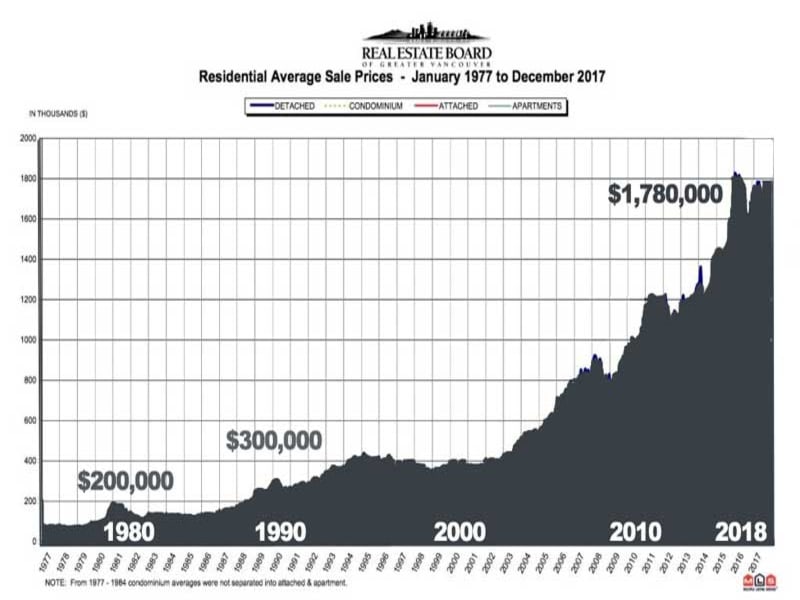 Even if the market is not doing so well, you are buying and holding an investment property that pays for itself. You are gaining cash flow and creating wealth for years to come. The market may fluctuate, but it will consistently increase over the years, making our strategy one of the safest investments you can ever make.
Residual Monthly Income Your investment can provide an income that can outlive you! As rents increase and mortgage payments decrease over time, your income grows. This provides you a monthly ongoing income stream with virtually no effort.
Leverage
One of the biggest advantages of Real Estate investing with us is OPM – "Other People's Money." Our unconventional lenders lend you money because our revenue homes are one of the safest and most secure investments. In other words, they're near risk-free.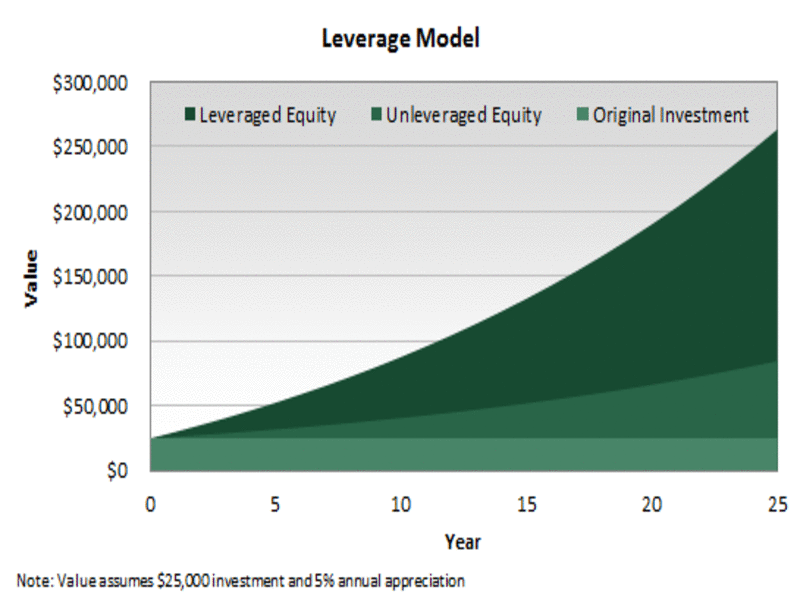 With Leverage, growth is attached to the value of your property, not on how much money you put down. This can multiply your investment returns substantially!
Rental Property in Vancouver – Ownership and control
Rental Property in Vancouver provides you with the greatest amount of ownership possible for investments. Don't let the board of directors or investment advisors decide how your money will be invested! Control your own future!
With our real estate strategy, you get the security and title to a tangible asset, just like your own home/business. You maintain complete control of the property and can sell, hold, refinance, or whatever you wish.
Tax advantages for Vancouver Investment Properties
For Principal Residences:
Take your profits out tax free – If you buy a singlefamily home to live in, called a principal residence (even if you rent out your basement suite), you do not have to pay taxes on the capital gain of your home. For instance, if you sell your home for $50,000 more than what you paid, you do not have to pay taxes on any of it!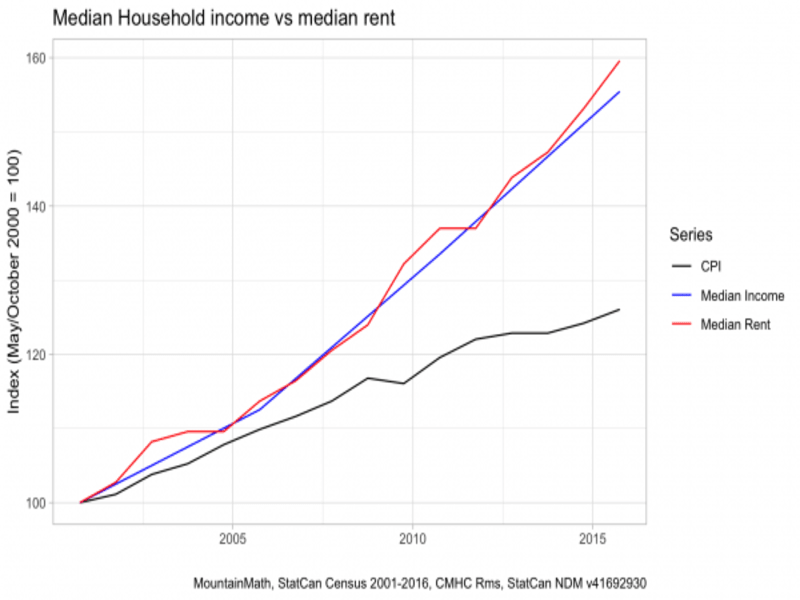 Your tax-free dollars can be reinvested to further compound your growth. All of this while the tenants in the basements pay for your mortgage! Then, you can move to another house, and start-up another project for one more year or two.
For Vancouver Investment Properties where you do not reside:
Tax deferral – Just like RRSPs, Real Estate profits are not taxed until you sell. If you purchased a property for $300,000 and it is appreciated up to $450,000, the $150,000 gain is protected from taxes until you sell. You benefit because your investment can grow tax-free year after year. Another option is to re-mortgage the house or get a line of credit against it to buy another one and again, it's tax-free.
However, unlike RRSPs, Real Estate has no limit to what you can shelter from taxes (RRSP – max. 18%-20% of annual income).
Get 50% of your profits tax-free (Capital Gains) – Revenue home profits get the benefits of Capital Gains. You are taxed on only 50% of your capital gains, unlike income from your employment and interest income from Bonds, GICs, etc (100%). You get 50% of your profits tax free – which is very significant!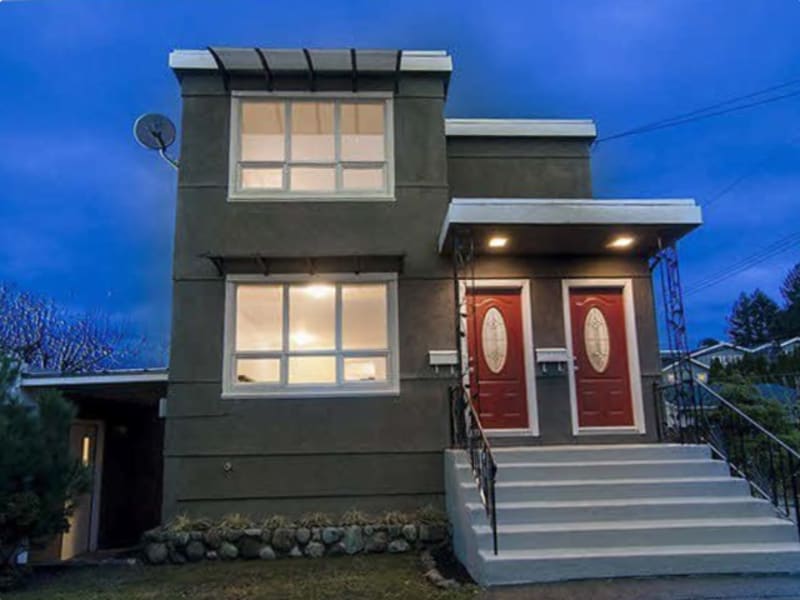 Tax Deduction advantages – Investment Properties allow for many tax deductions. Your finance and operating costs such as mortgage interest, property management fees, property taxes calculation, repair and maintenance, etc. can all be deducted from income. We even have strategies to deduct the mortgage from your principal properties! Want to find out more? Call us today.
All of these benefits are unique to each real estate investor, we suggest that you give us a phone call so that we can sit down and make an appointment to show you our unique concept of real estate investing in Vancouver!
Even with all these tools and advantages available, for many people the only Real Estate they invest in is their own principal residence (their own home). What they find when they retire is their greatest asset and investment is their home. Had they thought about our innovative real estate strategy, or known someone like us, perhaps they would have invested in more Real Estate like our Revenue Homes!
Only 4% of retired individuals retire financially free. Call us today: 604-767-3703.
You will learn by doing and witnessing others and by following the steps of our proven successful clients. Learning from our experience. We are always there for you to give you all the support you need, as this is a long-term business relationship.
Only 5% of the population act to fulfil their goals! This is a proven fact!
Aristotle said:
"Those who act win, and rightly win, the noble and good things in life."
Commercial real estate office buildings to strata units
If you are looking into commercial real estate, we offer solutions to real estate investors looking for: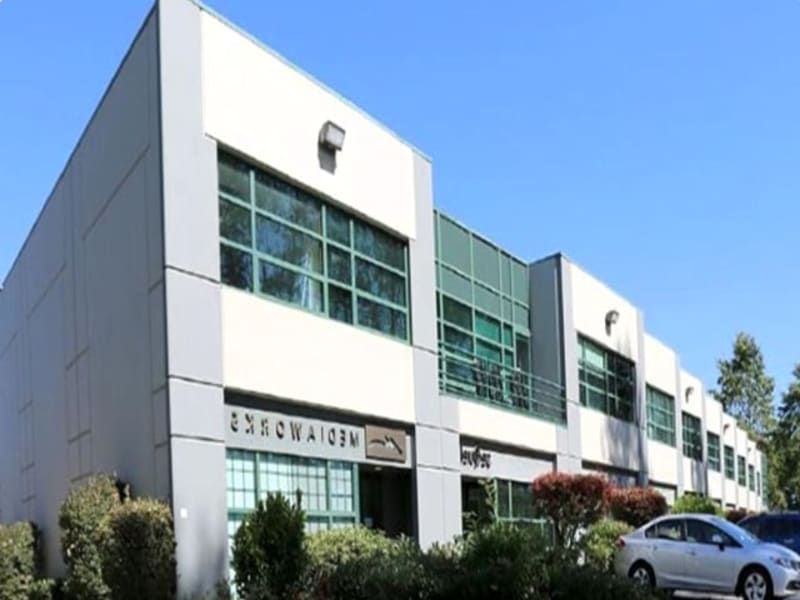 Industrial real estate,
Warehouses,
Office buildings,
Multifamily investments and
Commercial office strata units.
If you are looking to invest in property, this is the place for you. With a wide range of properties with different types of income and investment strategies available, we've got everything you need at your fingertips.
We have experts who can help guide you through all aspects of investing in property including financing options that will work even if yours doesn't come up with enough down payment money!
Let's get started today by filling out our contact form or giving us a call so we can tailor an offer just for YOU!
Contact Richard Morrison Today:

Best Places to Buy Rental Property in BC: North Vancouver, Surrey, Langley, Coquitlam, New Westminster, Port Coquitlam
According to local news, British Columbia and the lower mainland is receiving a massive inward migration from other provinces and is also benefiting from Canada's open immigration policies bringing millions of new immigrants each year. We focus on areas of densification where we know the population is booming.
Specific areas like North Vancouver, Surrey BC, Langley, Coquitlam, Port Coquitlam, New Westminster, Port Moody, Maple Ridge and even Mission real estate boards are all areas that are on the map to increase populations and job growth. Property market values grow where people go!
Knowing the right sub-areas to invest with precise knowledge of population and job growth projections coupled with knowledge of infrastructure projects in that sub area is key as a real estate investor. We can provide you with this expertise with local market precision. Contact us today and let's get started!
Statistics
Some companies has a reputation for student rentals. If it's good enough to them, it's good business for investors.
Invest in Vancouver realty and increase your property's value.
The property's performance is measured using CAP rate, annual cash on cash return, and annualized ROI over many years.
After that, suburban Metro and Valley townhomes were the next best, followed by single detached homes further away in Victoria (up 28.3 per cent year-over-year as at March), Powell River (41.8%) or even Kootenays (27%).
Lower Mainland has seen a 10 percent increase; they also tend to have the best portability.
There are many REITs available in Canada, and hundreds in the USA that offer low-cost entry to any number real estate niches. They also provide annualized income distributions of between 2.5 and 6 per cent.
Although the office market has changed during the pandemic we still see activity. CBRE reports that the downtown vacancy rate rose to 4.6% in quarter three 2020, from 3.3% in quarter two.
It is quite clear in the rental market. He says that the residential rental vacancy rate should be at least 3 percent to supply adequate housing.
Investors love Vancouver real estate market
The Vancouver real estate market has many benefits for investors. Generally, investors who purchase properties in Vancouver pay less for them than those who buy single-family homes. In addition, the cap rates for apartments are almost the same as those for single-family homes. This fact makes the market a great place to invest.
Ensure positive cash flow
One of the most important factors to consider when investing in real estate Vancouver is the cash flow you will receive from the property. The lower your financing costs, the better your chances of getting the money you need. A positive cash flow means that your rental income will exceed your mortgage repayments and your cash flow will be positive. To do this, you must consider the rent you will receive, your monthly payment, and any costs associated with the property.
You should not charge too much for the rental income. A positive cash flow is critical when investing in real estate Vancouver. By ensuring positive cash flow, you will have the security you need to make your investment a success.
Invest in 1 & 2 Bedroom Condos
Pre-sales for 1 & 2 bedroom condos in Vancouver are flying off the shelves. These units come with great features and prices are well below market value. The Apex project, for example, offers air-conditioned units for $400,000. You can choose from a variety of styles and options, starting from a $210,000 budget. Cap rates are calculated as net income divided by the value of the property. If the cap rate is greater than three percent, the property has a good chance of earning you money in the long run. As mentioned, Vancouver was an unattractive place to invest in rental properties just a few years ago. Colliers International reported cap rates as low as 2%.
Invest in a Townhouse
The Vancouver housing market has been notorious for its high prices, which often ranked among the highest in the world. Vancouver is also a leading global city in the health and tech industries and has a thriving film industry. The city is bordered by mountains and water, and there is only so much land available to accommodate the growing population. According to the UBS Global Real Estate Bubble Index, Vancouver is currently the sixth most overvalued city in the world.
As a business destination, Vancouver is a great choice for real estate investment. This city has a high quality of life, and it boasts an economy that is booming at an unprecedented rate. Vancouver is a gateway to Mexico, Asia, and South America, providing numerous opportunities for businesses to expand worldwide. Eco-friendly policies and green technology help to reduce pollution and damage to the environment. In addition, the city's efficient transportation networks make it a smart choice for real estate investment in Vancouver.
Invest in Mixed Use Property
Investing in mixed-use property has many advantages. Not only are they more profitable, but they also offer tenants convenience and a sense of community. Despite the threat of e-commerce juggernauts, consumers still want to experience a physical shopping experience. Many people prefer to try on clothing and hairstyles, go to the dentist, or dine in a local coffee shop.
For example, one block of modern commercial strata units in North Vancouver is being advertised by Marcus & Millichap, including a Bank of Nova Scotia branch, Pharmasave drugstore, and triple-net leases. These listings are priced anywhere from $1.4 million to $4.35 million, and the entire offering was sold in a day. Such properties tend to be attractive to private investors, as they can generate a high return.
Discuss Investment Opportunities
As the real estate market continues to boom in Vancouver, big money investors have been looking to the Lower Mainland for investment opportunities. These investors are making huge amounts of money in the area, and they are looking to leverage this momentum by partnering with local developers to develop high-quality projects.
On April 12, the Vancouver Real Estate Forum will feature a panel discussion on institutional investors and the importance of partnering with local developers to create profitable developments. Other panels will feature experts from investment firms discussing the current state of the real estate market, government policies, demand for rental housing, and the affordability crisis.
While Vancouver is a seller's market, many investors are looking to invest in rental properties to get the most out of their investment. With a population that is nearing 675,000, there are still plenty of good investment opportunities. You just need to know where to look and which neighborhoods to focus on. Listed below are some neighbourhoods that offer great investment opportunities. Once you know your budget, you can begin scouting and discussing real estate investment opportunities in Vancouver.
Find tenants and manage your property
Many people in Vancouver are overwhelmed by the responsibility of landlording their own properties. From finding qualified tenants to handling maintenance requests and monthly billing, there is a lot to do! But you don't have to do it all by yourself! There are professionals in Vancouver who can help you. Contact us today to learn more about the services we offer. We are local and highly experienced, so we can help you find tenants and manage your Vancouver investment property.
Some property managers charge a fee for new tenant placement, but some don't. Others charge up-front fees or a bonus structure for placing tenants. They may also charge a one-time fee of up to 50% of the first month's rent. If you are considering hiring a property management company, avoid paying multiple up-front fees and other expenses to them. Often, these fees can be written off as a business expense!
The Canadian mortgage stress test
The stress test for mortgages is designed to determine if you can comfortably pay off your mortgage after experiencing a major financial crisis. It checks to make sure that you can afford the payment on your mortgage and the rate increase, as well as any other financial stress that may arise. Fortunately, there is a way to avoid triggering the stress test if you are unsure about your ability to make your monthly mortgage payment.
Sources:
https://vancouversun.com/business/real-estate/first-time-homebuyers/buying-a-condo-old-vs-new-building
https://macleans.ca/sponsored/investing-in-real-estate-in-canada/